Structured Cabling
Building it right the first time.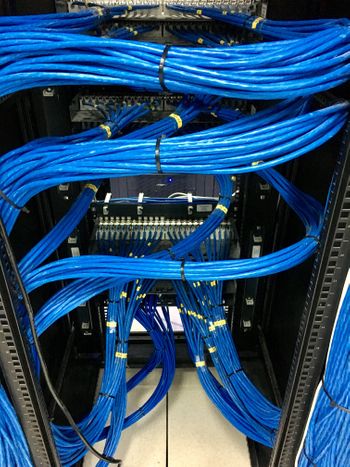 Structured cabling is the essential backbone of any IT infrastructure. It is the vital component within the physical layer of your networked systems that supports the connectivity of voice, data, or video.
The Cornerstone team has more than 25 years of experience within horizontal and vertical copper and fiber cable environments. We offer design, engineering, installation, and maintenance, all of which enables us to deliver on the full scope of your low-voltage infrastructure cable and wire requirements. As a Cornerstone client, you can rely on our subject matter expertise for a solution that best fits your unique business environment, and any or all associated industry standards. We have performed in various business markets, such as but not limited to:
Healthcare

Construction

Education

Municipal

Community

Religion

Finance

Law Firm

Data Center

Hospitality

Retail

Entertainment

Industrial

Government
Using today's BICSI Standards combined with our dedication to superior quality and service makes Cornerstone a leading installer for your needs.
Cornerstone is ready and willing to support your infrastructure needs with the following cabling and wiring services:
Fiber Fusion Splicing
Copper Riser
Fiber Backbone
Network & Telecom
Office Space (Desktop & Workstation)
Rack & Stack
Wireless Access Point
Outside Plant
Demolition & Removal
Telco & Internet Demarcation Tie Cable
CATV
CCTV & Security
Fire Alarm
Audio-Visual










COMPLETE INDUSTRY STANDARDS TESTING FOR COPPER & FIBER CABLING
Our clients expect their voice and data cabling to provide successful connectivity to their technology devices, networks, and systems. Downtime translates to wasted resources and lost revenue, this can be avoided by proper testing procedures that meet todays' industry standards.
Using Fluke Networks cable and wire testers, Cornerstone can provide the most thorough industry standard compliance testing available. Detailed reports, available in either soft or hard copy format, offer clients complete validation of each parameter of testing with every cable and wire.